Coffee Shop Serendipity
Saturday morning I took a book to Caribou and settled in an easy chair next to the fireplace. A woman I didn't know sat down on the nearby couch about 30 minutes later. She was carrying a book, so of course I said, "What are you reading?" She told me the title--a murder mystery. I jumped right in as if on cue, and said, "I'm reading a fascinating crime story, only it is non-fiction, The Devil in the White City; murder magic and madness at the Fair that changed America. It's about how the Columbian Exposition of 1893 was planned and built and about a serial murderer who lived in Chicago during that time." "Oh, I read that," she said, "I'm from Chicago, and I'm a researcher of old buildings, so I really loved that book."

So we began a discussion of the book, of Chicago, of Columbus, of architecture and Ohio State. A very satisfying coffee break.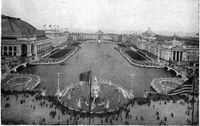 Columbian Exposition 1893